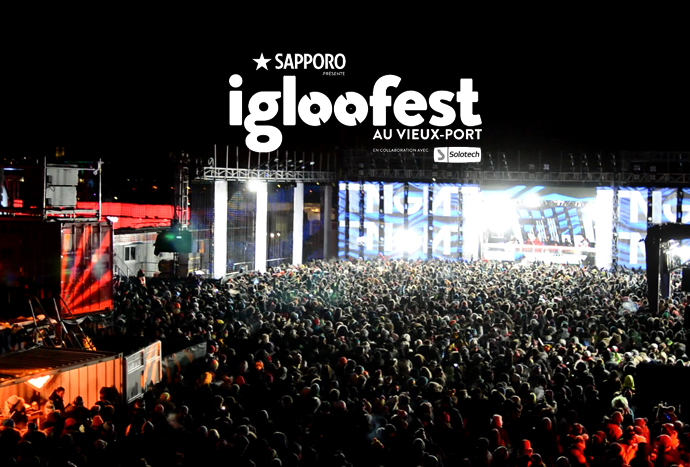 It's mid-February now, and we've closed another chapter of the Igloofest chronicle.
Almost an extension of the holiday season, the beloved festival serves as a unique mechanism to escape the all too consuming weight of the Montreal Winter. Now that it's over, thousands of party-goers – upwards of 76,000 to be accurate – must rely on their own devices to persevere towards the effortless joviality of Spring.
As always, the celebration exceeded our expectations, leaving only slight and likely superfluous qualms for us to meditate until they are once again wiped from our conscious with the opening revelry of Igloofest 2014.
Until then, let us relive its grandeur.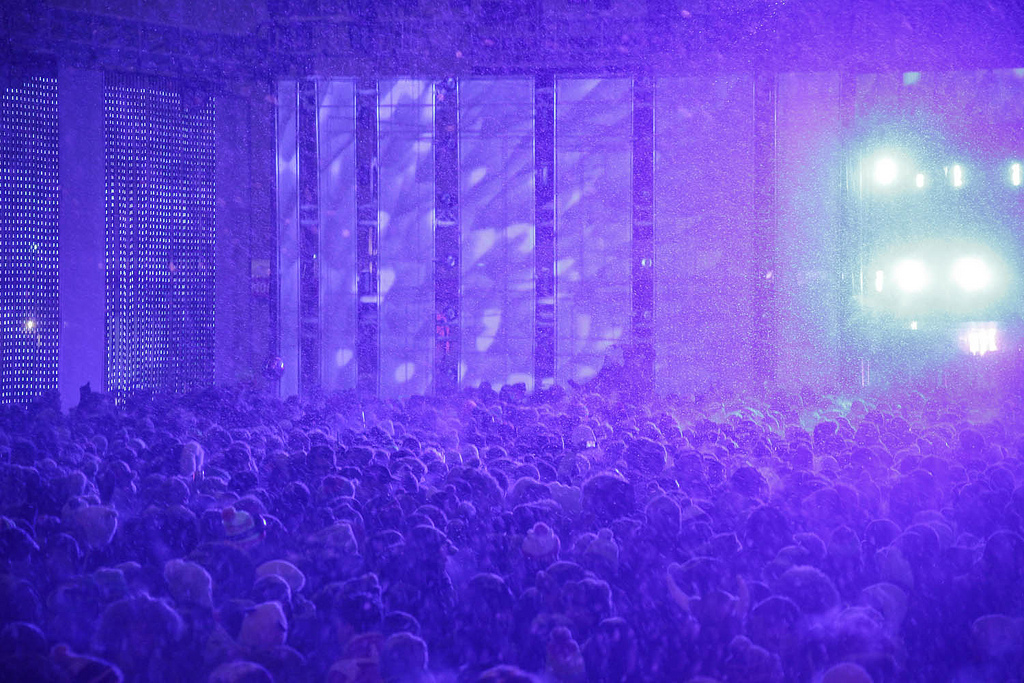 One element of the festival that never ceases to strike an impression on me is the crowd.
Yes, on some occasions the pulsating mass aggravated several of the die-hard music appreciators and gentle personalities I've spoken with since, but more often was I all together impressed by the spirit of the crowd and their commitment to this 21st century nocturne.
I'm not sure if I've ever witnessed a more consistently dancing group of people. The audience is not solely comprised of dance music fanatics either; older individuals and a great many who may not even relate to music of an electronic variety make up a considerable portion, if not a majority of the crowd as well.
I believe that this rare phenomenon can be attributed in part to the physical need to keep moving – considering that this was the coldest Igloofest to date – but also to the entirely non judgmental, come-one-come-all atmosphere provided by the event's organizers. Either way, a sense of unity was often inevitable.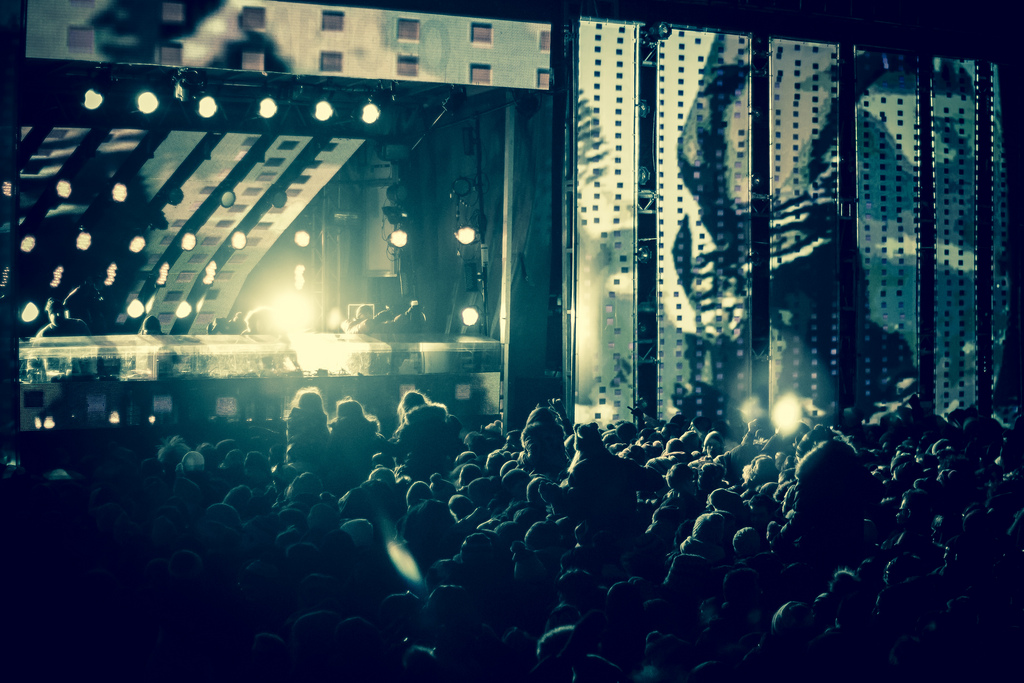 Another thing I must applaud was the host of talented visual artists performing in unison to those on stage. Their work was most often dazzling and at times even breath taking.
Some artist's that impressed us in particular, Baillat Cardell & fils, Gridspace, and Diagraf, not only provided appropriate and mesmerizing accompaniment to their respective DJ's but shone in their own respect, on occasion even over-shadowing the musician with creations that garnered audible mass exaltation.
Now, to give credit to the enormous talent that graced the 1′s and 2′s at this year's festival; with this calibre of expertise, I can hardly begin to highlight every instance of musical fervour, but of course, there were some performances that were unforgettable, inspiring even.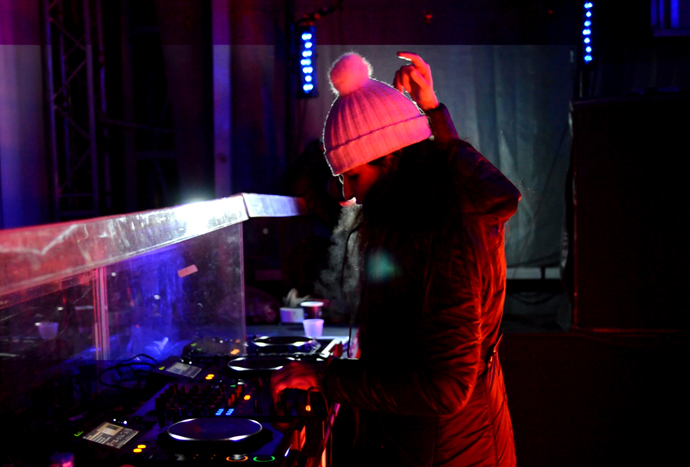 [Mistress Barbara]
The most memorable set for us was surely Misstress Barabara's ravenous opening ceremony.
Her definitive exhibition of rolling, hard-hitting yet upbeat techno, a style I can't say I was previously compelled by, knocked our photographer and myself off of our feet, not that we could feel them anyway.
It made me wish for the first time that I went raving in 2005.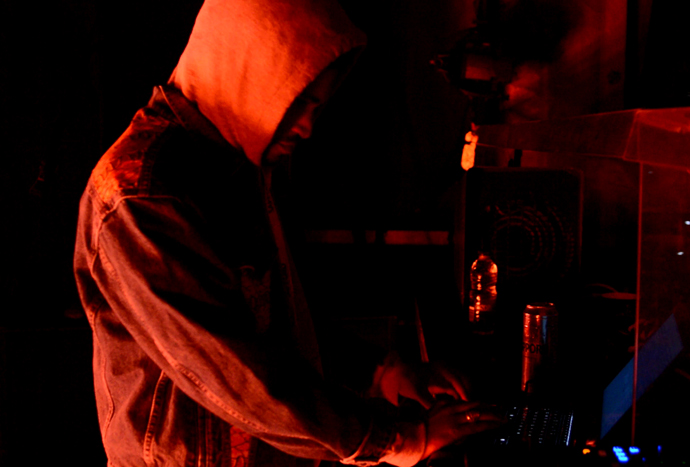 [Kaytranada]
Home town hero, Kaytranada, put forth a captivating mix of generational classics, and a slew of tunes, assumedly out of his growing catalogue of self-produced beats, that maintained many of the nuances of the trap template, but with smoother, funkier bass lines and grooves that distinguished them from the overwhelmingly popular genre.
His entourage, one of the liveliest groups of gentlemen this side of the 49th parallel, was also a compelling attribute.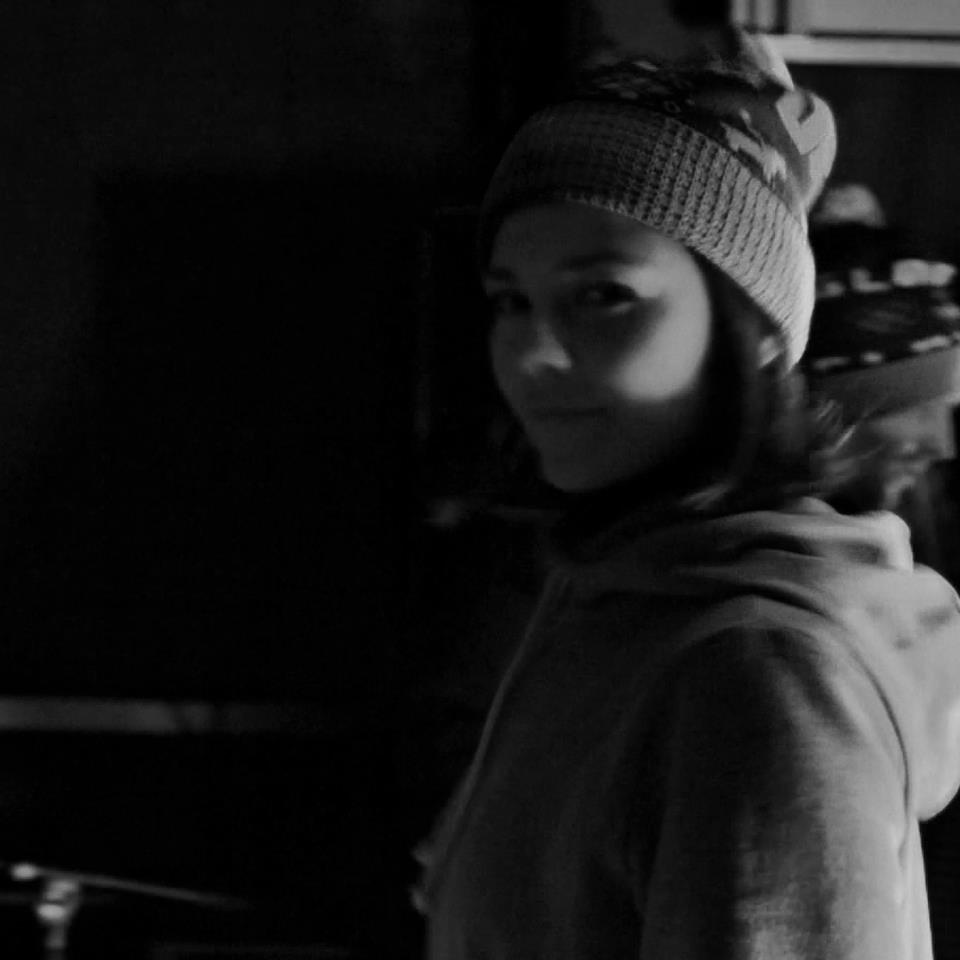 [Nina Kraviz]
As expected, Nina Kraviz enchanted us.
Yes, we may very well have fallen victim to her playfully seductive stage presence, but I'm certain that it was her hypnotic brand of house music and the decidedly and ever so delicately off-beat manner in which she chose to mix said music that truly won our hearts that evening.
Regardless, Ben Klock is indeed one lucky individual.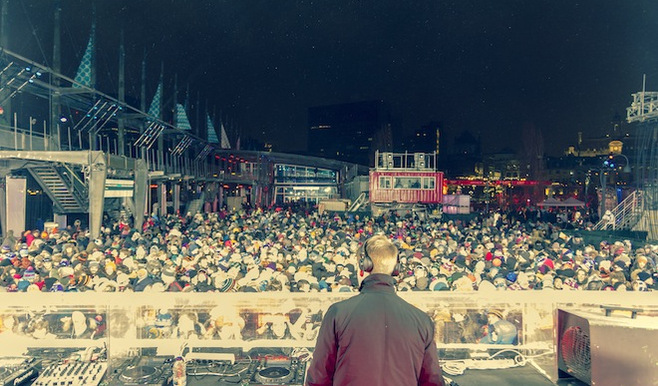 [Joy Orbison]
The final weekend was a triumph in and of itself, with a line-up that in my opinion rivaled even the combined glory of the previous three.
Thursday night, Ben UFO represented the Hessle Audio mentality, along with affirming the root of his own success as a 'DJ that only DJs,' by playing out cold, industrially percussive and bass-heavy records in flawless succession.
Joe Goddard livened up the crowd with melodically centered house tunes, before descending once again into more deep and rumbling grooves.
The following night we were treated to yet another staple of the 'DJs that only DJ,' club, but in comparison to Ben UFO, Oneman was far more effective in accommodating the entire audience with his eclectic and keenly blended mix of disco, hip-hop, garage, dubstep, and house.
Following him was the legend, Joy Orbison; I don't mean to sound over-zealous but it feels like something of an honour every time I have the opportunity to catch his set. This being his first ever time in Canada, he lived up to every expectation and blew us away with his signature style of pounding, twanging, and immanently groovy UK bass music.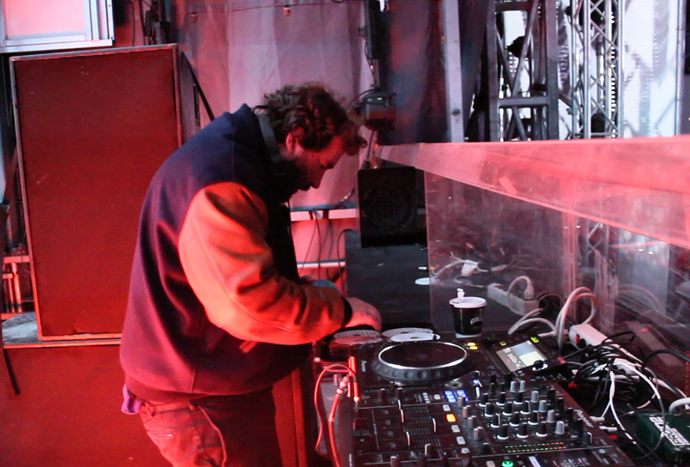 [Joe Goddard]
Apart from the aforesaid heroes, there were many that made the honourable mentioned list.
Wolf + Lamb, KiNK, Pan-Pot, Lunice of TNGHT, Taal Mala, and Tommy Four Seven all put forth sets that deserve notation in their own right. I recommend taking the opportunity to catch every one of these outfits if the occasion so presents itself.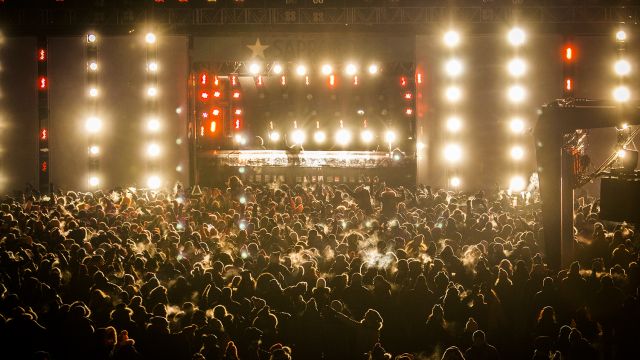 What might we change about Igloofest if given the opportunity to do so? Not much.
Perhaps we'd narrow the volume gap between opener and headliner; I shouldn't be able to maintain an unstrained conversation at the front of a Ben UFO set, indoors or out of doors.
Though the organization of nights by genre is for the most part very good, it wouldn't have hurt to employ some minute, strategic shuffling of performers; Schlachthofbronx, for instance, would have certainly suited another night, a night that was not so centred on the very not-German tradition of hip-hop.
Another thing: there were a handful of local artists we were surprised to not find on the bill. The much buzzed production duo, Grown Folk, solo effort, KwikFiks, and Clown and Sunset's Valentin Stip would have all made fantastic additions to the sonic experience. It was also a surprise not seeing the inclusion of local visual authority and personality, Skunch, on the VJ roster. And what about the Dirty Bird backed Prince Club? Or even the St. Laurent staple, Deejay Ledisko? Prison Garde? Seb Diamond? I suppose the list could go on and on, but a few dollars could be saved whilst upping the musical anti in 2014. Igloofest organizers, take note.
We might also opt for some warmer weather, but then again, it wouldn't be the Igloofest we know and love with out the numb toes and slushy Sapporo tall boys, now would it?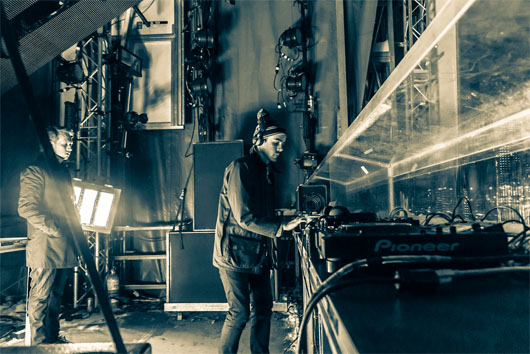 [Oneman and Joy Orbison (back)]
Take a look at this visual reminiscence we put together if you're still looking for a more vivid picture.
In conclusion, we'd like to thank the Igloofest team for allowing us to be apart of such a unique enterprise.
Nothing short of a drastic rise in global temperature will keep this festival from excelling far into the future.
See you at Piknik.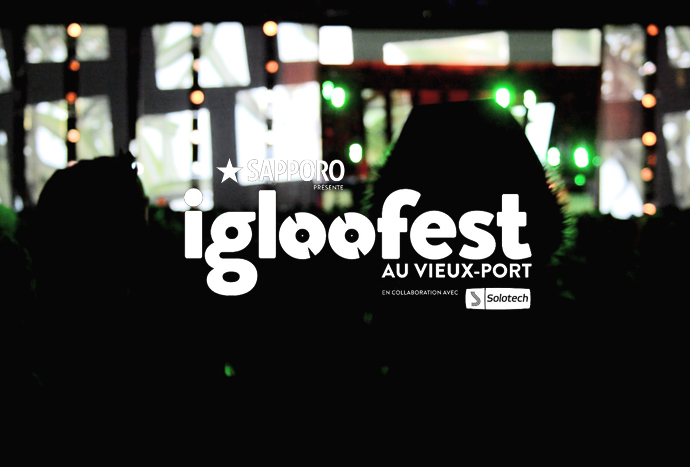 words: Samuel Rutledge
images: Kane Ocean
support: Adam Rutledge
other images: Vivien Guamand, Léa Lacroix
---
---
---
---
---
---
---
---
---